Accordingly, consumer concern about COVID-19 remains high, far outpacing all other health problems today. This concern is driving a tidal wave of change in consumer attitudes and behaviors toward eating and shopping for health and wellness. And, with many consumers believing these diet and lifestyle changes will last well beyond the duration of the pandemic, food and beverage manufacturers need to be up with a quickly changing playing field.
Six-country survey
During 2020, HealthFocus International interviewed consumers in the USA, Brazil, UK, Spain, Germany, and China to reveal the nature and extent of the changes we suspected the pandemic would bring with it. We wanted to capture and quantify how the pandemic is impacting the consumer's search for healthy eating and living – data that could help the industry to successfully navigate the lasting effects of COVID-19.
Specifically, we set out to uncover:
COVID-19's influence on perceptions, beliefs, and definitions of health; and how these will continue to impact behaviors in shopping, eating, and living for health.
The nature, size and trending behavior of changes that will have a permanent impact on consumers' views and actions towards their diets and nutrition.
The likely long-term consequences for the wellness market.
Answers and insights that can support "better-for-you" business initiatives in this new reality.
The study combined new research with pre-COVID-19 established core benchmarks from the HealthFocus Global Database to track the velocity of change for a number of key trends. Conducted in over 40 countries every second year, the HealthFocus Global Database is an international trend study dating back to 2000, with the latest data from January-February, 2020. The COVID-19 study was conducted in October, 2020. For each wave, approximately 500 consumers in each country were surveyed. Respondents in all waves of the research were at least 18 years old and the primary grocery shoppers in their household.
Dramatic shifts
It's no secret that the COVID-19 pandemic has caused unprecedented disruption to the food and beverage sector. While some of the trends highlighted by the study were new and unexpected, others have been in the works and appear to have been accelerated by the pandemic. Generally speaking, consumers are taking charge of their health and making serious changes, with some of the most notable shifts including:
Resurgence of center store shopping is providing new opportunities as people turn back to shelf stable products and comfort foods.
A growing foothold and trial rate of online grocery shopping and at-home food delivery as shoppers look to minimize their exposure to the virus.
A renewed appreciation and acceptance for the ability of food science and technology to provide health and functional food benefits of interest.
An acceleration of the already growing "kitchen medicine" trend, as people look to their diet for a myriad of benefits.
Consumers are seeking to gain more control over their personal health with increased focus on proactive dietary changes and supplement use.
Record-high rates of stress and anxiety are driving increased demand for healthy indulgence and mood food.
With many restaurants closed and limited take-out options, there's a growing reliance on cooking and preparing meals at home.
Consumers see a connection between their personal health and a sustainable planet and are willing to pay more today for both.
Driving the future
In addition to capturing the changes that have already occurred, a key objective of this research was to look into the future to gain insight into which changes are permanent and which may be temporary. Where should we be looking to best invest our resources today that will pay back tomorrow?
To help understand this, HealthFocus took a closer look at those who are extremely concerned about the COVID-19 pandemic today compared with those less so. While the levels differ by geography and local conditions, the trend for this COVID-19 Concerned Consumer group is rapidly accelerating. It's clear that these highly concerned consumers greatly magnify the overall changes in attitudes and actions dramatically. But most important is their overwhelming belief that the key changes they have made across the board relative to diet, nutritional shopping and activity for health will be permanent.
As COVID-19 continues to manifest around the world, it's important to recognize that concern levels will likely continue to grow in response, therefore creating an even greater shift that will eventually become the norm.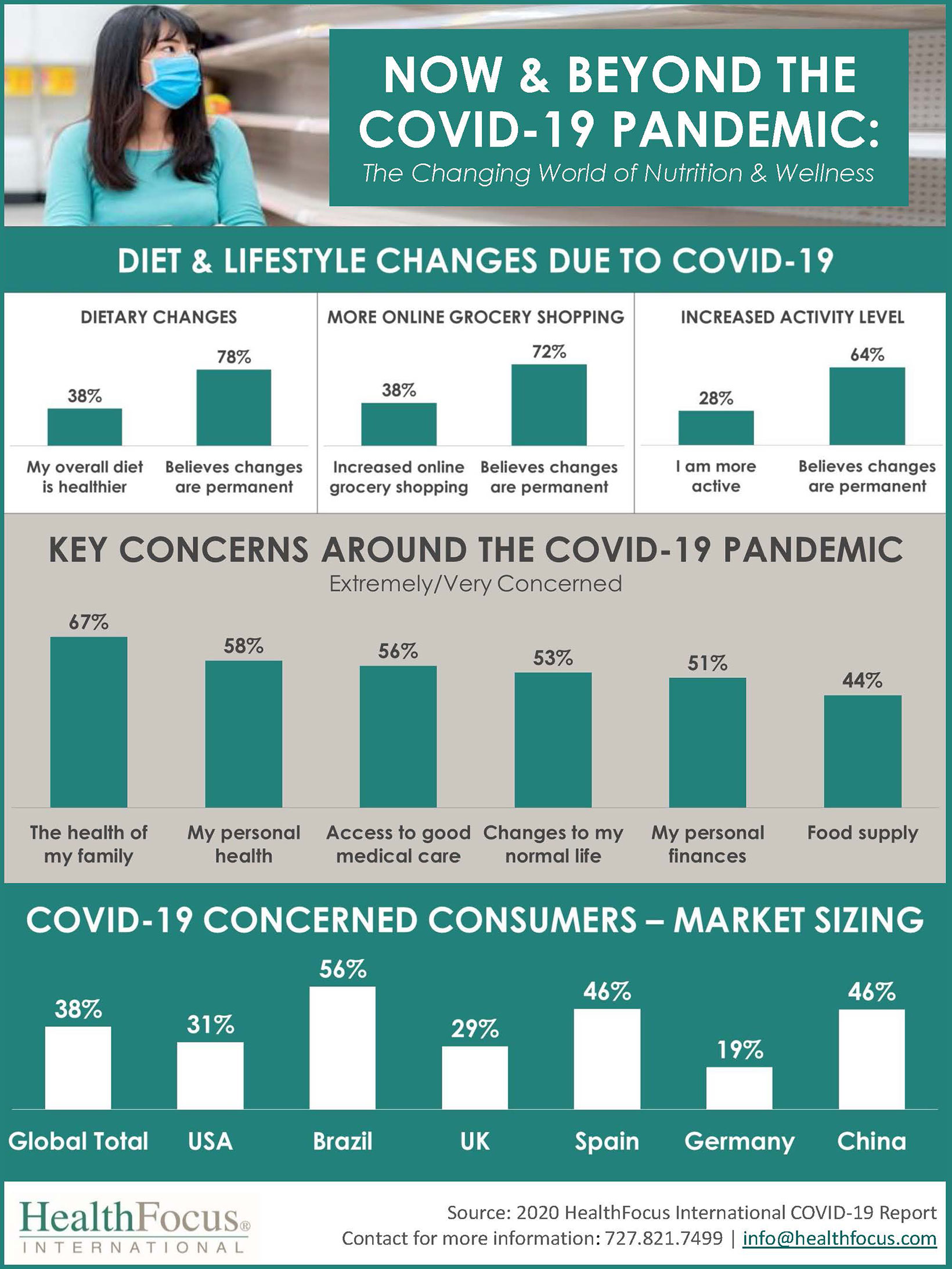 ---
This blog contains material and information intended for B2B customers, suppliers and distributors, and is not intended as information to the final consumers.